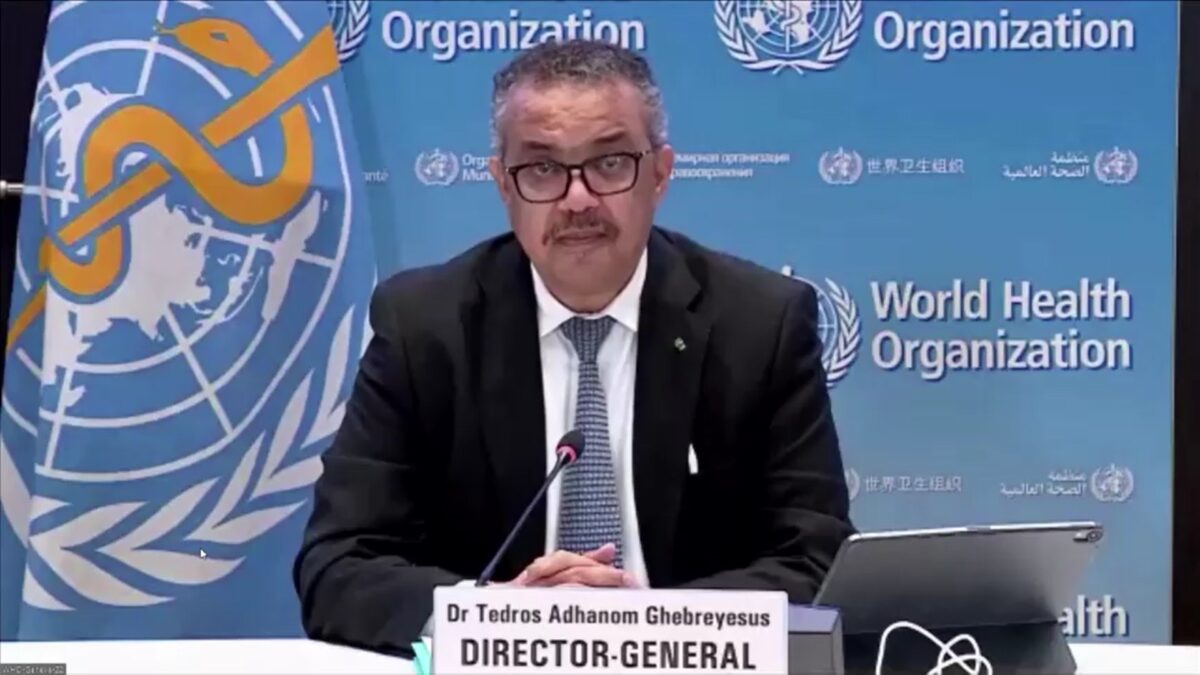 The World Health Organization (WHO) has admitted to not having a "clear picture" of why people are dying from COVID-19, and called for more data sharing among nations, as Beijing continues to see a mass spread of the virus while refusing to share accurate numbers.
Since February 2022, the number of deaths reported to WHO every week has dropped by almost 90 percent. However, the number of weekly reported deaths has remained between 10,000 and 14,000 since mid-September, WHO Director-General Tedros Adhanom Ghebreyesus said during a Jan. 11 media briefing.
"Most of those dying are at-risk groups, incl. older people. During the last 6 months of 2022, people aged 65 or over accounted for ~90% of all reported deaths. Once again the data we receive from countries is inadequate to give us a clear picture of who is dying & why," Tedros admitted.
Last week, around 11,500 deaths were reported to the organization, of which Americans accounted for 40 percent, Europe 30 percent, and the Western Pacific region 30 percent. This number is "almost certainly an under-estimate" due to the underreporting of COVID-19 deaths in China, the WHO chief said.
Out of the 194 nations in the world, only 53 provide data on deaths segregated by sex and age. Tedros asked all nations to provide such data, insisting that the more data they get, "the clearer a picture we have."
COVID Variant Spread
The WHO chief also highlighted the need to continue with sequencing tests to detect and track the emergence and spread of variants like XBB.1.5. "The world cannot close its eyes and hope this virus will go away. It won't," Tedros stated.
He asked countries that are currently facing "intense" COVID-19 transmission to increase sequencing and share those sequences. Since the peak of the Omicron wave, the number of sequences being shared has dropped by over 90 percent while the number of nations sharing sequences has fallen by a third, Tedros added.
During the week ending Dec. 3, the XBB.1.5 variant only made up 2.3 percent of COVID-19 infections in the United States, according to data from the U.S. Centers for Disease Control and Prevention (CDC). By the week ending Jan. 7, this has jumped over ten times to 27.6 percent.
In China, the ruling regime claimed that only 10 people died from COVID-19 in December. However, this claim has been challenged by various groups. The WHO has accused the Chinese Communist Party (CCP) of withholding data regarding the outbreak.
Leaked images of a report believed to have been from an internal CCP conference show that authorities believed that up to 248 million people were infected in the first 20 days of December. A report released by UK-based health data firm Airfinity last month estimated daily deaths in China at 9,000.
Vaccines and Deaths
There is also an alarming trend of COVID-19 deaths happening among the vaccinated population. According to an analysis by Kaiser Family Foundation (KFF), roughly four in 10 COVID-19-related deaths by January 2022 were accounted for by individuals who had taken COVID-19 shots.
Analysis of CDC data by KFF showed that six out of 10 COVID-19-related deaths between April and August 2022 were among people who had some level of vaccination.
"The data is suggesting that at this point, with the vast majority of the population having had contact with either the infection or the vaccine, the effects of the vaccine are marginal," Dr. Jacob Teitelbaum, an expert in long COVID and post-viral chronic fatigue syndrome and fibromyalgia, told The Epoch Times.
In a recent survey by Rasmussen Reports, 49 percent of American adults suggested that the side effects of COVID-19 vaccines "likely" accounts for a significant number of unexplained deaths, including 28 percent who think it is "very likely."
Among respondents, 28 percent said that they personally know someone whose death they think might have been caused due to the side effects of COVID-19 vaccines.