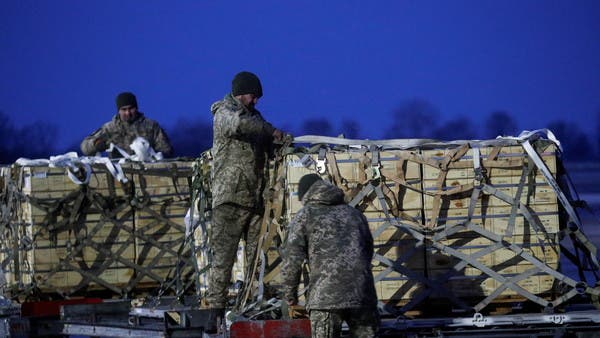 The United States sent a munitions stockpile stored in Israel to Ukraine for use in the war against Russia, the New York Times reported on Wednesday, saying the decision was made last year when Washington's Middle East ally was under a centrist premier.
An Israeli official confirmed the report to Reuters, saying that then-Prime Minister Yair Lapid approved the transfer although the United States does not formally need such consent.
For the latest headlines, follow our Google News channel online or via the app.
While it has condemned the Russian invasion of Ukraine, Israel has limited its assistance to Kyiv to humanitarian aid and protective gear, while ruling out a direct weapons supply.
The Israelis want to maintain a coordination hotline with Russia, set up in 2015, over their military strikes on suspected Iranian targets in Syria, where Moscow has a garrison. They are also mindful of the welfare of Russia's big Jewish community.
The Israeli official did not know if any further such US arms transfers from Israel were expected under conservative Prime Minister Benjamin Netanyahu, who took office on Dec. 29 and who, during previous terms, had cultivated a personal rapport with Russian President Vladimir Putin.
The US Embassy in Israel had no immediate comment on the New York Times report. Ukrainian Ambassador Yevgen Korniychuk told Reuters by phone that he had "no idea" if the report was true. The Russian embassy declined comment.
Lapid, who took office in July, was especially vocal in sympathizing with Ukraine. Yet a person familiar with Lapid's decision-making played down the possibility that this had sway in the US arms transfer, saying: "I believe – and I hope – that any Israeli prime minister would have gone along with it."
For decades, the Pentagon has stored munitions in Israel to serve as emergency resupplies for the country in wartime – or for handover to other US allies.
According to the New York Times, the US munitions moved from Israel to Ukraine were around 300,000 155-millimeter artillery shells, a kind Kyiv is using up at a high pace.
Although such supplies are under Israeli lock-and-key, "the Americans don't need our permission to move them. These are American property," David Ivry, a former director-general of Israel's Defense Ministry and air force ex-general, told Reuters.
Read more:
Aircraft crashes into building in Ukrainian town near Kyiv
Russia's commissioner denies talks on large prisoner exchange with Ukraine
Military Patriot training will take 10 weeks: Ukrainian defense minister