A senior Russian diplomat has accused the U.S. of engaging in "psychological warfare" as it leads the way in expanding NATO military aid to Ukraine, with advanced weapons including main battle tanks and long-range missiles now under discussion with Kyiv.
Russian Deputy Foreign Minister Sergei Ryabkov said Monday that Washington's deepening support for Kyiv is "dangerous" and could have unintended consequences, according to a report by Russia's state-run Tass news agency.
Ryabkov took particular issue with discussions over the supply of the MGM-140 Army Tactical Missile System (ATACMS), a long-range missile with a range of around 200 miles that the White House has so far refused to send to Ukraine, fearing it may prompt escalation from Moscow.
"This is an element of psychological warfare, the incessant and intensifying hybrid war by the U.S.-led collective West against Russia," Ryabkov said of the back-and-forth between Kyiv and Washington regarding the missile system. Escalation, Ryabkov added, is "the most dangerous path."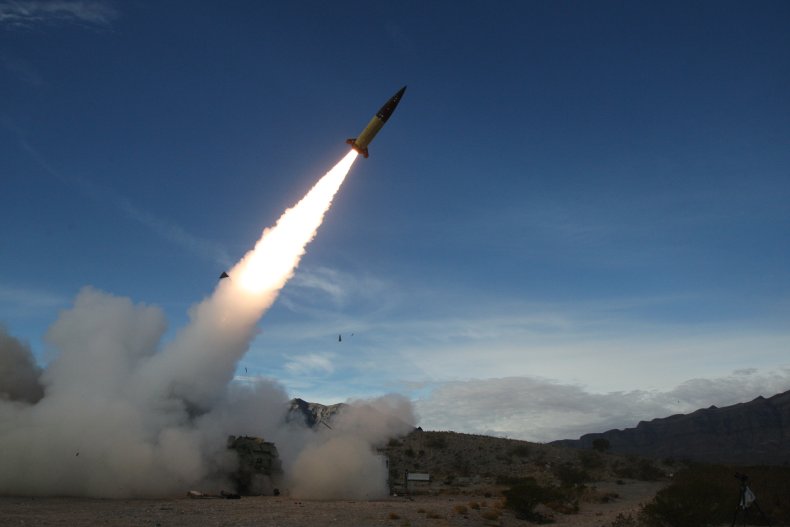 In this file photo, U.S. soldiers of the 18th Field Artillery Brigade fire an ATACMS at the White Sands Missile Range in New Mexico on December 14, 2021. Russian Deputy Foreign Minister Sergei Ryabkov has taken issue with discussions about the possible supply to Ukraine of ATACMS, a long-range missile with a range of around 200 miles.
John Hamilton/White Sands Missile Range Public Affairs
Ukrainian officials have long been requesting ATACMS, which can be fired from the same NATO-provided multiple-launch rocket systems (MLRS)—including the fêted American HIMARS—that have done so much damage in deep strikes on Russian troop concentrations and supply hubs.
Ukrainian-operated Western MLRS systems currently have a maximum range of some 60 miles when using Guided Multiple Launch Rocket System munition. The ATACMS would more than triple this range, putting key Russian positions in Crimea and its northern approaches within striking range.
Some of America's NATO allies are agitating for Washington to drop its block on supplying ATACMS to Ukraine. Estonian Foreign Minister Urmas Reinsalu told Newsweek in December that it was time "to give—without political caveats—long-range missiles," referring to ATACMS.
And on January 11, in the lead up to the latest meeting of the Ukraine Defense Contact Group at the U.S. air base in Ramstein in Germany, Lithuanian Foreign Minister Gabrielius Landsbergis wrote on Twitter: "Ukraine has more than earned our support and respect. It's time to send ATACMS missiles and unleash the Leopards." The latter was a reference to the German-made tank much desired by Ukraine.
Colin Kahl, the under-secretary of defense for policy, said on 23 January that Washington and Kyiv are in ongoing discussions about how to expand Ukraine's long-range strike capabilities.
"There is a need to reach beyond the front line and, without going into details, I will say that we acknowledge this need in the current phase," he told journalists at the Ukraine Media Center during a visit to Kyiv last week.
"We should think about how to help Ukraine overcome this challenge. But I will not resolve in advance what kind of system it might be.
"On the ATACMS issue, I think we're kind of at the 'agree to disagree' position on that," Kahl said.