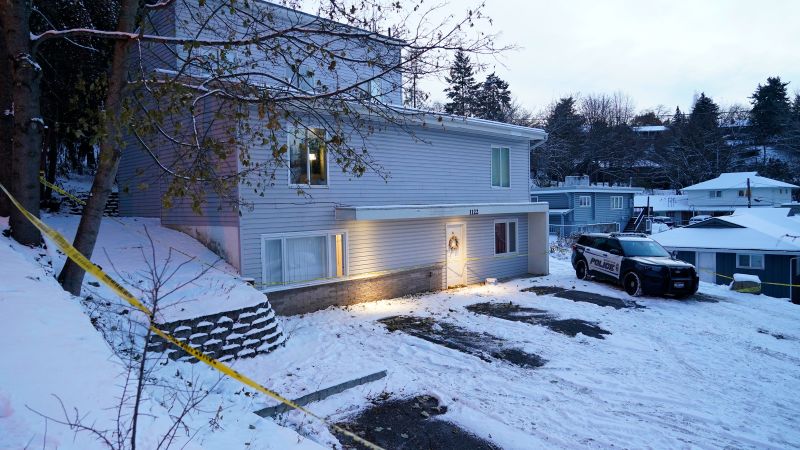 The suspect in the November slaying of four University of Idaho students may soon be in Idaho to face first-degree murder charges if, as expected, he doesn't challenge his extradition to the Gem State in a Tuesday hearing.
Bryan Kohberger's state-appointed attorney has indicated his client plans to waive extradition from his home state of Pennsylvania and has called the hearing a "formality proceeding."
All the commonwealth needs to prove is that his client resembles or is the person on the arrest warrant and that he was in the area at the time of the crimes, Monroe County Chief Public Defender Jason LaBar told CNN's Jean Casarez.
Kohberger was arrested Friday in Pennsylvania, almost seven weeks after Kaylee Goncalves, 21; Madison Mogen, 21; Xana Kernodle, 20; and Ethan Chapin, 20, were found dead November 13 in an off-campus home in Moscow, Idaho.
Kohberger was "shocked a little bit," LaBar told CNN a day after his client was arrested.
Kohberger is presumed innocent until proven guilty, LaBar said in a statement, and he is "eager to be exonerated of these charges and looks forward to resolving these matters as promptly as possible."
LaBar said he expects Kohberger to be returned to Idaho within 72 hours of Tuesday's hearing.
The 28-year-old suspect last month finished his first semester as a PhD student in the criminal justice program at Washington State University's campus in Pullman, about a 15-minute drive west of Moscow.
Suspect in the Idaho college student killings returned home for the holidays weeks after the crime. Here's what we know about him

Kohberger drove home to Pennsylvania for the holidays, accompanied by his father, LaBar told CNN on Saturday. The two arrived in the commonwealth around December 17.
A white Hyundai Elantra authorities had been looking for in connection with the killings was found at Kohberger's parents' house, LaBar confirmed.
Investigators focused on Kohberger as a suspect after tracing ownership of the Elantra, which had been seen in the area of the killings, to him, according to two law enforcement sources briefed on the investigation. Also, his DNA was matched to genetic material recovered at the home where the students were slain, the two sources said.
An FBI surveillance team tracked Kohberger for four days before his arrest while law enforcement worked with prosecutors to develop enough probable cause to get a warrant, the two law enforcement sources said.
Other than the DNA and the car, details such as whether Kohberger knew the victims or a possible motive are not publicly known. The probable-cause affidavit, which would contain information to justify the suspect's arrest, remains sealed until he appears in an Idaho court.
With those details still unknown, much public interest has focused on Kohberger's criminal justice studies.
He graduated with a bachelor's degree in 2020 and this year completed his Master of Arts in criminal justice at DeSales University in Pennsylvania, according to a spokesperson for the university.
In a post removed from Reddit after his arrest was announced, a student investigator associated with a DeSales University study named Bryan Kohberger sought participants for a research project "to understand how emotions and psychological traits influence decision-making when committing a crime."
"In particular, this study seeks to understand the story behind your most recent criminal offense, with an emphasis on your thoughts and feelings throughout your experience," the post read.
Moscow Police Department Chief James Fry said after the arrest that the investigation of the complex, extensive case was not over.
Investigators are still searching for pieces of evidence, Fry said, including the weapon, believed to be a fixed-blade knife.
"We developed a clear picture over time," he said, "(but) be assured that the work is not done. This is just started."
Kohberger is being held without bail in Pennsylvania, Latah County Prosecutor Bill Thompson said Friday.
Once Kohberger is in Idaho, he is expected to make an initial appearance before a magistrate, and further hearings will be scheduled.
CNN's Josh Campbell, Jim Sciutto, Lauren del Valle, Mark Morales, John Miller, Jean Casarez, Paul P. Murphy, Veronica Miracle, Stephanie Becker, Pamela Brown, Elizabeth Joseph, Brynn Gingras, Rebekah Riess and Jay Croft contributed to this report.