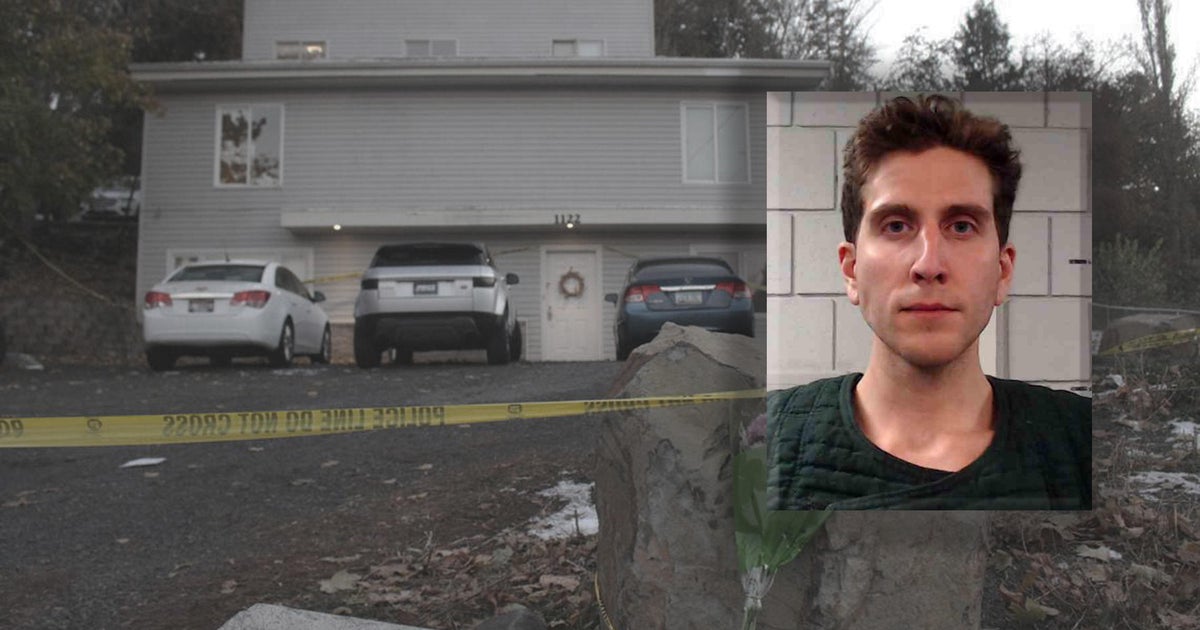 January 5, 2023 / 12:55 PM / CBS/AP
Watch "48 Hours: The Idaho Student Murders" — correspondent Peter Van Sant reports on Saturday, Jan. 7 at 10/9c on CBS and streaming on Paramount+.
The DNA of the man accused of killing four University of Idaho students was found on a knife sheath at the crime scene, an investigator said in court documents unsealed Thursday. The affidavit written by Moscow, Idaho Police Cpl. Brett Payne was made public just minutes before a court hearing began for the man accused in the Nov. 13 deaths, 28-year-old Bryan Kohberger. 
Kohberger was handed over to local authorities in Idaho on Wednesday after a flight from Pennsylvania, where he was arrested at his family's home in the Pocono Mountains. He is being held in Latah County Jail for allegedly killing Kaylee Goncalves, Madison Mogen, Xana Kernodle and Ethan Chapin in November.
According to the affidavit, agents recovered trash from the Kohberger family residence in Albrightsville, Pennsylvania on Dec. 27 and sent evidence to the Idaho State Lab to be tested.
The next day,  a DNA profile obtained from the trash was compared to the DNA profile obtained from the sheath.
"At least 99.9998% of the male population would be expected to be excluded from the possibility of being the suspect's biological father," the affidavit said.
Kohberger is charged with four counts of first-degree murder and felony burglary in the closely watched case that has grabbed the nation's attention and rocked the small college town on the Idaho-Washington border.
His attorney in Pennsylvania, where his parents live and where he was arrested, has said he is eager to be exonerated.
Kohberger faces four counts of first-degree murder and felony burglary for his alleged involvement in the murders, said Latah County, Idaho, prosecutor Bill Thompson during a news conference after his arrest. Before driving cross-country with his father to Pennsylvania, according to Monroe County district attorney Mike Mancuso, Kohberger had just finished his first semester at Washington State University. Located in Pullman, Washington, the campus is roughly 15 minutes from the University of Idaho by car. Kohberger enrolled at the school as a Ph.D. student in criminology and also worked as a teaching assistant there. 
He has denied allegations of his involvement in the murders at the University of Idaho, according to Monroe County public defender Jason LaBar, who represented Kohberger in his extradition case. LaBar said during an appearance on NBC's "Today" show Tuesday that Kohberger's family was "shocked" by his arrest and the allegations brought against him.
LaBar described Kohberger to "48 Hours" as calm and intelligent.  
"He's an ordinary man to me, I see no distinct characteristics," LaBar said. "He's easy to talk to. He's aware of the situation. He's very calm."  
First published on January 5, 2023 / 12:55 PM
© 2023 CBS Interactive Inc. All Rights Reserved. This material may not be published, broadcast, rewritten, or redistributed. The Associated Press contributed to this report.