A former FBI official with ties to the investigation into Russia's alleged links to Donald Trump's 2016 election campaign has been charged with providing services to a sanctioned Russian oligarch.
Charles McGonigal, 54, the former head of counterintelligence for the FBI's New York office, is accused of secretly working with Russian billionaire Oleg Deripaska, including attempting to have him removed from the U.S. sanctions list in 2019.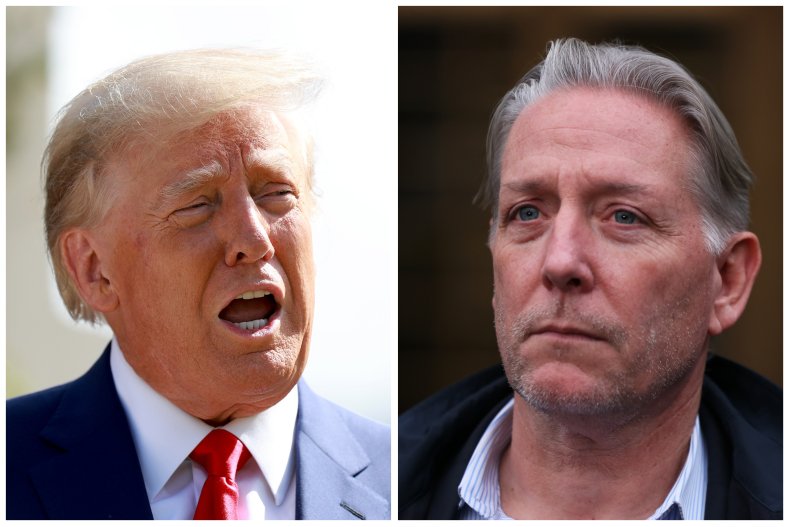 (Left) Former U.S. President Donald Trump speaks to the media after voting on November 8, 2022 in Palm Beach, Florida. (Right) Charles McGonigal, the former head of counterintelligence for the FBI's New York office, stands silently after leaving Manhattan Federal Court on January 23, 2023 in New York City. McGonigal is accused of secretly working with a Russian billionaire and has ties with the investigation into Trump's 2016 election.
Joe Raedle/Michael M. Santiago/Getty Images
McGonigal, along with Sergey Shestakov, a former Soviet and Russian diplomat who later became a U.S. citizen and a Russian interpreter for courts and government offices, has also been charged with allegedly being paid by Deripaska to investigate a rival oligarch, and then attempting to conceal the payments.
During his time in the FBI, McGonigal participated in investigations of Russian oligarchs, including Deripaska.
He was also one of the key figures who helped trigger special counsel Robert Mueller's investigation into allegations that Trump's campaign team colluded with Russia to help the former president win the 2016 election.
McGonigal, while serving as chief of the cybercrimes section at the FBI headquarters in Washington, DC, was among the first FBI officials to be made aware of allegations that George Papadopoulos, a 2016 campaign adviser for Trump, boasted that he knew Russians had political dirt on Democrat candidate Hillary Clinton.
This information led to the FBI launching "Crossfire Hurricane," which would examine whether Trump officials had been coordinating "wittingly or unwittingly" with Russia's attempts to interfere in the 2016 presidential election.
In September 2020, FBI Deputy Assistant Director Jonathan Moffa said, during Senate Judiciary Committee questioning, he received an email in July 2016 from McGonigal about Papadopoulos that "contained essentially that reporting, which then served as the basis for the opening of the case."
In 2017, the FBI's work was taken over by special counsel Robert Mueller as part of his expansive probe into the Trump campaign's ties with Russia amid the 2016 election.
In 2019, the Mueller Report determined there is no evidence that the Trump campaign criminally worked with Russia to help interfere in the election, but detailed several examples of the former president allegedly attempting to obstruct the investigation.
A number of Trump's inner circle were also convicted as a result of the Mueller Report.
Papadopoulos was jailed for 12 days in 2018 after admitting lying to the FBI about his contact with a professor who allegedly claimed to have dirt on Clinton in 2016.
Deripaska was also a client of Paul Manafort, Trump's former campaign manager who was jailed in 2019 for tax and bank fraud charges in a case that stemmed from Mueller's probe.
In a post on Truth Social after the Department of Justice announced the charges against McGonigal, Trump said: "The FBI guy after me for the Russia, Russia, Russia HOAX, long before my Election as President, was just arrested for taking money from Russia, Russia, Russia. May he Rot In Hell!"
McGonigal and Shestakov have both been charged with one count of conspiring to violate and evade U.S. sanctions, in violation of the International Emergency Economic Powers Act, one count of violating the IEEPA, one count of conspiring to commit money laundering, and one count of money laundering. Shestakov is also charged with an additional one count of making false statements.
"As alleged, Charles McGonigal, a former high-level FBI official, and Sergey Shestakov, a Court interpreter, violated U.S. sanctions by agreeing to provide services to Oleg Deripaska, a sanctioned Russian oligarch," U.S. Attorney Damian Williams said in a statement.
"They both previously worked with Deripaska to attempt to have his sanctions removed, and, as public servants, they should have known better."
Both men pleaded not guilty to the charges during court appearances in New York on Monday.